Phenom 384 3.5-14 x 35mm
Regular price $1,895.00 Sale


The Bering Optics PHENOM 384×288-35mm handheld Thermal monocular features a premium, high sensitive Vanadium Oxide (VOx) 384x288pxl 12µm pixel pitch LWIR core with automatic shutter, LCOS1280x980pxl display and a 35mm Germanium Lens.
The PHENOM is capable of internal video recording (mp4) as well as capturing still images. The Phenom includes wifi which can connect with Android and iOS devices to stream video and view or download recorded content. The Phenom has a 3.5x base magnification working well as a medium-long range scanner. With 2x and 4x digital zoom boosting the magnification to 7x and 14x, this scanner will work great for hog hunters looking for a Positive ID (PID) before starting their hunt. The Phenom 384 also includes 5 different background color options.
The PHENOM is capable of detecting heat generated by a vehicle at distances up to 2200 yards away in any terrain, twilight or night time conditions. The thermal's exceptional and unmatched performance makes it suitable for many tasks by demanding users in any field including hunting, patrolling, law enforcement, navigation, and rescue operations.
Phenom Specs: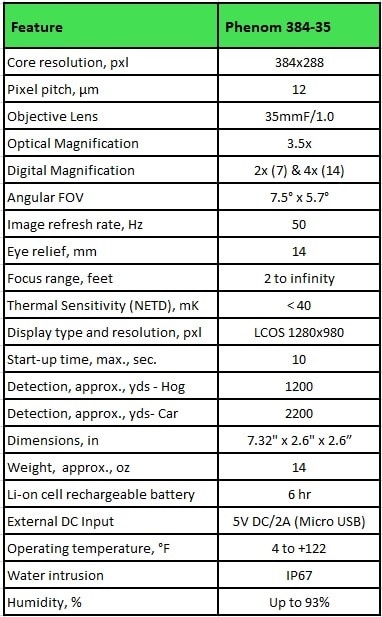 Superior for medium and long-range distances spotting and observation
Core detector resolution 384x288pxls
12 µm pixel pitch
Photo and video recording capability
Wi-Fi App capable (Android)
Picture-in-picture mode with doubled magnification of the observed image
Digital compass
Automatic shatter based VOx thermal core
NUC manual control
LCOS 1280 x 980px display
Switchable image polarity: White Hot / Black Hot / Red Hot / Color Hot/Target Hot
Hot Spot Detection Mark
Stadiametric Rangefinder
Brightness adjustment
2X, 4X Digital Multiplication
Rugged, compact and lightweight
Easy to use controls
Water-resistant, dustproof and drop impact (1 yard/meter) proof body
Nitrogen-purged
Built-in rechargeable battery with up to 6-hour run time
Quick battery recharge via computer or 5V DC adaptor
Power save and standby modes
Low-Battery Indicator
Analog Video Output
Tripod mountable, built-in ¼" tripod socket
THERMAL SCANER MODEL

Phenom 640

Phenom 384

Model # and Price

BE46235 $3195.00

BE43235 $2175.00

Magnification Range, x

2.5x - 10.0x

3.5x-14.0x

Native (Optical) Magnification, x

2.5x

3.5x

Digital Multiplication (times), X

2X or 4X

Objective lens system

35mm F/1.1

Precise Eye Piece Focusing mechanism

Yes

Precise Lense Focusing

Yes

1/4" Tripod Socket Built-In

Yes

Angular FOV at Native Magnification (Horizontal x Vertical), degrees

H13.0° x V10°

H7.5° x V5.7°

Focus range

                    2.0 yds to infinity  

Diopter Adjustment, D

-3 to +4

Built-In LED Flashlight

No

VanadiumOxide (VOx) Thermal Core resolution, pxl

640x480

 384x288

Pixel pitch, µm

12

Image refresh rate, Hz

50

Auto Core calibration

Yes

Low Battery Indicator

Yes

Power Saving Standby mode

Yes

Thermal Sensitivity (NETD), mK

≤40

Display resolution (SXGA), pxl

1280х960

Brightness adjustment

Yes

Detection Range (Target size: 8  ft² ) approx.

1600 yds

1200 yds

Dimensions, in

7.32"x2.60"x2.60"

Weight approx., oz

14.1

Built-in Rechargable Batary Run Time, approx. up to
(AC 100-240V charger witht 5V DC output included )

6 hrs

7 hrs

Operating temperature (typical) °F

 -4°F to +122°F  

Nitrogen purged

Yes

Water and dust resistance

 IP67

Humidity, max.

93%

Hot Spot Detection Mark

Yes

Switchable image polarity for Hot: White, Black, Red, Colored

Yes

Picture-In-Picture (2X magnified image on the top of the display)

                                Yes

Stadiametric Rangefinder to estimate distance to  targets of known size

Yes

 

Video out

                                Yes

Internal memory

                               16 Gb

Built-in photo camera ( .jpeg format pictures)

Yes

Built-in internal video recorder ( .mp4 format video files)

Yes

Wi-Fi life streaming to Android phone or Tablet

Yes

Wi-Fi life streaming to iOS phone or Tablet

Yes

Image contrast manual adjustment

Yes

No

Tripod mountable, built-in 1/4" tripod  

                                Yes