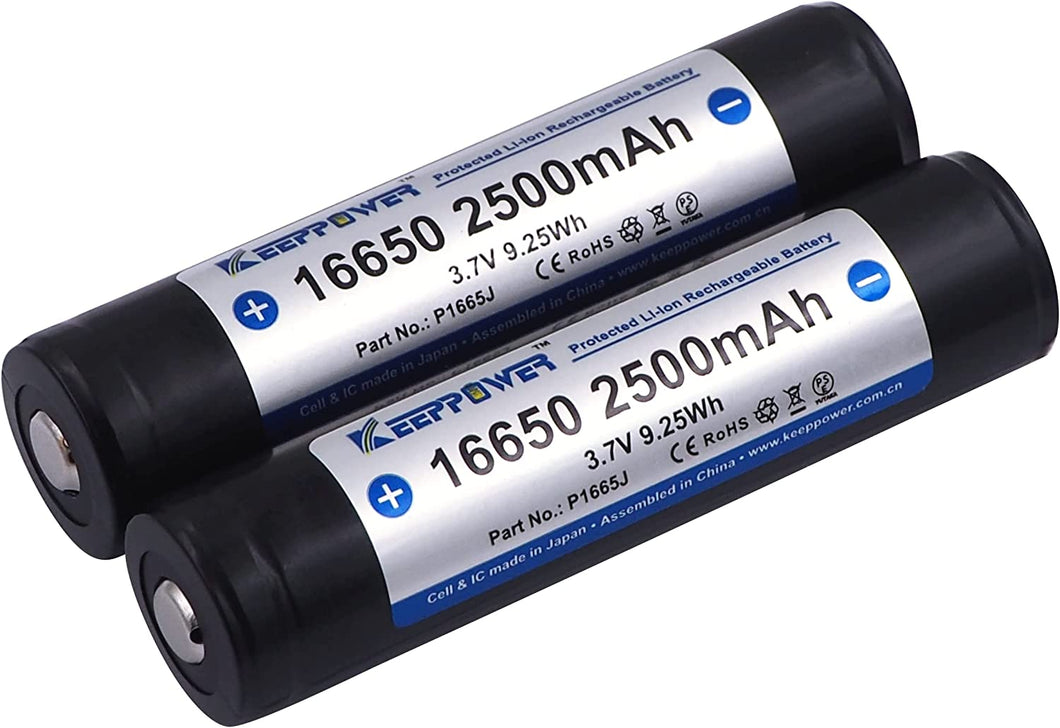 Keeppower Protected 16650 Rechargeable Li-ion Battery 2500mAh 3.7V P1665J (2 Pieces)
Regular price $30.00 Sale
Each purchase is for a pack that contains 2 batteries.
PRODUCT DETAILS
KeepPower 16650 2500mAh Protected Button Top
Sanyo UR16650ZTA cell 
Battery purchases in pairs receive free plastic cases.
This cell can generally be used to replace 2xCR123A in flashlights, but as it is lower voltage a boost driver is advisable.

Please Note: The internal cell is capable of being charged to 4.35V, but the protection circuit is set to 4.20V, we did not notice a huge capacity difference with this.

Specifications:
Nominal Capacity: 2500 mAh
Nominal Voltage: 3.7V
Charging Voltage: 4.20V
Discharge End Voltage: 2.5V
Max. Continuous Discharging Current: 2C

Dimensions:
67.90mm (L) x 16.39 mm (D) (+/-0.2mm)
Protection Circuit (Over charge, over discharge, over current, and short-circuit)
Warnings: 
-Do not overdischarge/overcharge
-Recharge drained batteries ASAP
-Do not short circuit
-Do not dispose of in fire
-Do not expose to extreme heat or water
-Please be familiar with handling lithium-ion batteries before purchase.

Please note: Due to the nature of this consumable product, no returns are allowed unless the product is defective upon receipt. Protected batteries are longer than unprotected batteries due to the addition of the protection circuit. Please keep in mind we cannot accept returns on batteries.
MANUFACTURED BY :
KeepPower